ESG Auditing and Performance measurement
Why should businesses care about ESG?
Sustainability used to be just about saving the planet. Today it has morphed into an umbrella term for environmental, social, and governance (ESG) issues. Citizens, governments, and the media are turning the spotlight on corporations and demanding action. Social inequality, corruption, tax avoidance, and a lack of action on climate change are issues that companies must now address in full public view. Rupantar Guha, Principal analyst and Sapana Maheria, Director, Thematic Intelligence, GlobalData report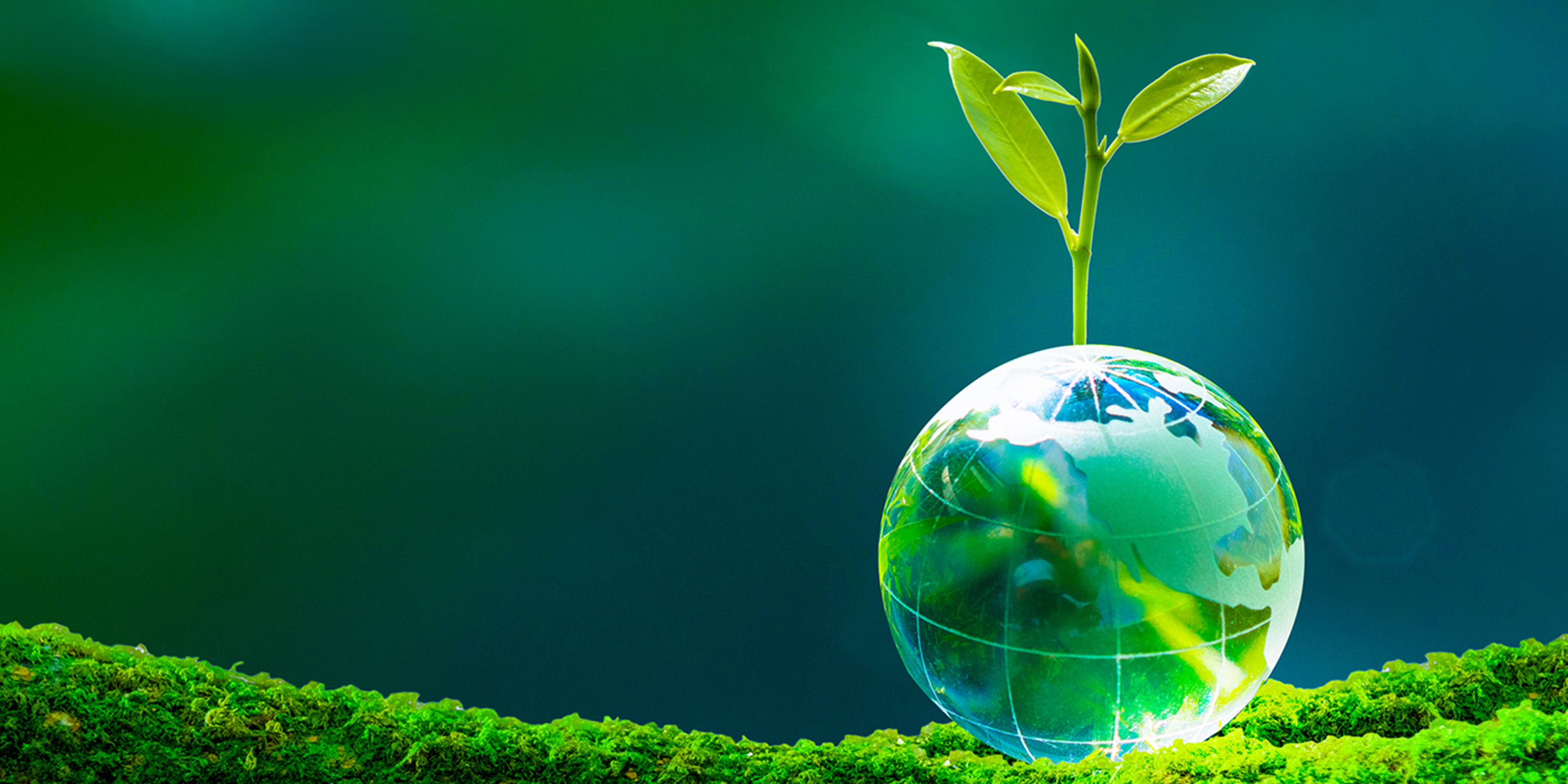 Since 2020, there have been significant and lasting changes in how we interact, work, and consume—driven by the disruption of the COVID-19 pandemic. According to GlobalData's ESG Strategy Survey 2021, 67% of ESG executives believed that the pandemic acted as a catalyst for increased focus and action on ESG issues. About 80% of respondents believed that the monitoring and auditing of ESG will increase, however, 57% said that the measuring and tracking of ESG performance represent a key challenge.
ESG should play a major role in investment decisions
Companies that embrace all three elements of ESG will outperform their peers, while CEOs that are too slow to improve their company's ESG performance will see an exodus of customers and a drop in profits far sooner than they ever imagined.
The reluctance of many CEOs to fully engage with sustainability can be attributed to the outdated view that it will hurt profits. However, GlobalData's research suggests the opposite. Nearly 86% of respondents to the ESG Strategy Survey 2021 said that ESG should play a major role in investment decisions, however, North American companies were the least invested in ESG. North America was the only region where the share of ESG executives that said ESG should have a major role in investment decisions was below 80%, while companies in the Asia-Pacific and the Middle East and Africa regions fared well, at nearly 89% each. The survey found that 80% of companies plan to increase their investments to meet ESG goals.
With that said, overall commitment to ESG continues to underwhelm. Over a quarter of respondents (28%) in GlobalData's ESG Sentiment Polls Q1 2022 thought that, for most companies, ESG was just a marketing exercise. There was no change in the number of those who believed that most businesses are fully committed to ESG – at only 19% in Q4 2021 and again in Q1 2022. This suggests that respondents continue to question the effectiveness of governing bodies in imposing existing regulations on businesses to meet international targets, such as reducing emissions.
57% of respondents believed that measuring and tracking ESG performance was a key challenge
Only 19% believed that most businesses were fully committed to ESG in Q1 2022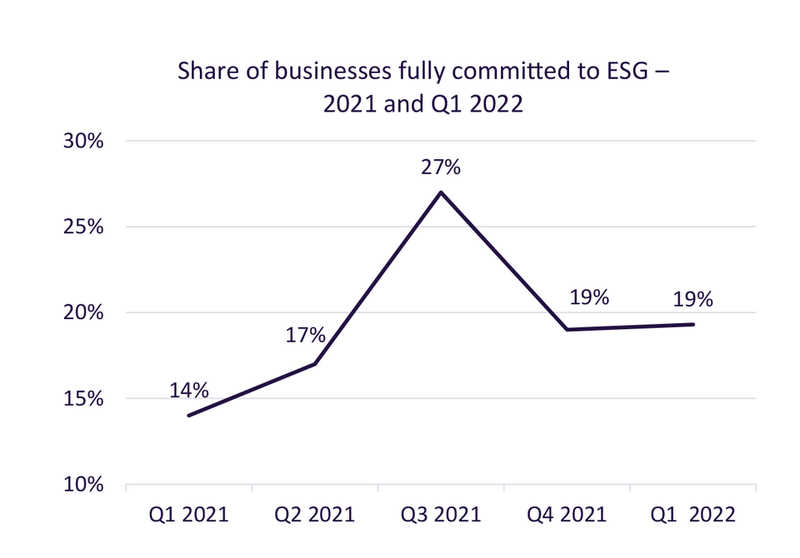 Question 6: Do you think the business community is fully committed to improving its ESG performance? Share of responses for "Most businesses are fully committed to ESG"
Q1 2021 N=354 ; Q2 2021 N=364 ; Q3 2021 N=354; Q4 2021 N=395; Q1 2022 N=352
How can accounting firms help their clients become more sustainable?
There is little doubt that companies recognise the importance of ESG. However, ESG is a complex and wide-reaching subject that is often approached in a piecemeal, reactive manner. There are no global standards for ESG reporting yet, so it can be difficult for CEOs to know where to start.
Accounting firms will play a vital role in shaping the ESG auditing and performance measurement processes. The key areas where these firms can help their clients become more sustainable include:
Helping to generate transparent corporate information on both financial and ESG activities.
Preventing greenwashing by providing independent assurance on ESG processes.
Providing guidance on ESG regulations, sustainability targets, reporting, ESG actions, and measuring performance.
What are the 'Big Four' doing in ESG?
ESG is the most important theme of the decade. The 'Big Four' accounting firms –Deloitte, EY, KPMG, and PwC – have realized the significant growth opportunities in the theme and, as a result, have ramped up their hiring activity.
ESG-related hiring activity in the Big Four is growing steadily
EY led in ESG-related hiring, followed by KPMG, between H2 2019 and H1 2022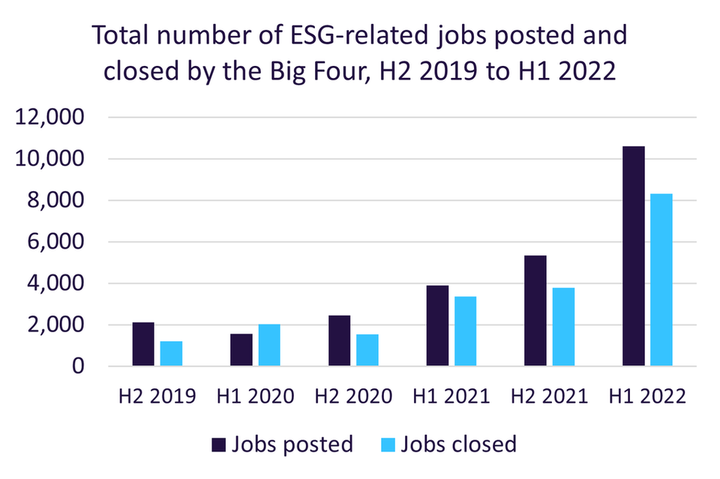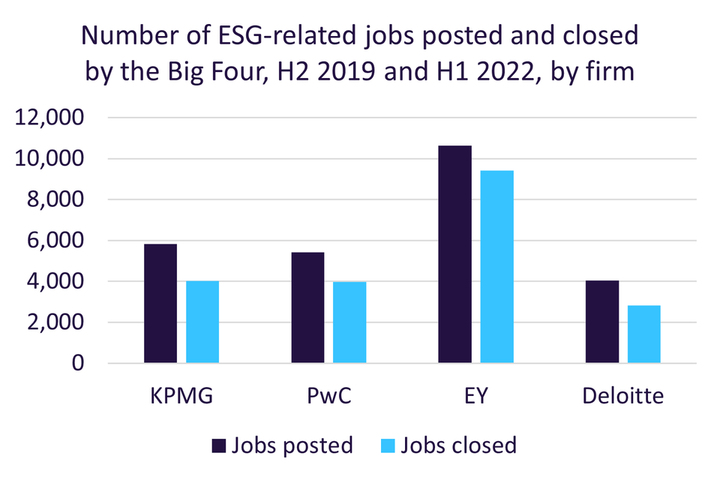 In June 2021, PwC announced an investment of $12 billion over five years to create 100,000 new jobs aimed at helping its clients with climate and diversity reporting, using artificial intelligence. Subsequently, in August 2021, Deloitte launched a 'climate learning program' for its 300,000 employees, while it is also working with a US government agency to stop the importation of goods made by forced labor.
EY is aiming to achieve net zero in the fiscal year 2025. In addition, EY is also developing new ESG solutions for its global clients aimed at helping them focus on value-led sustainability journeys. It helps clients capture the business opportunities from ESG and decarbonization, while also protecting and creating value along their supply chains. KPMG is also integrating ChainPoint software in its supply chain offerings to help companies monitor and manage their ESG footprint. It helps to reduce risk, improve transparency, and accelerate responsible sourcing strategies.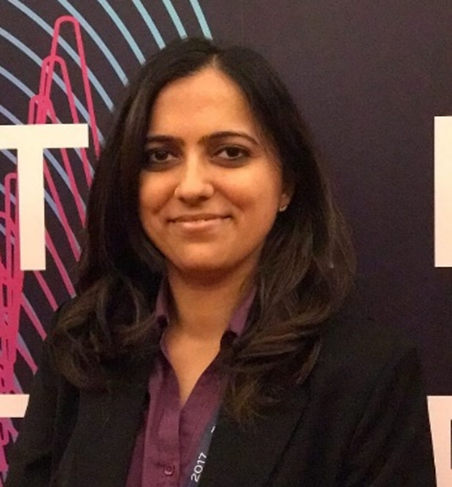 Sapana Maheria
Director, Thematic Intelligence
GlobalData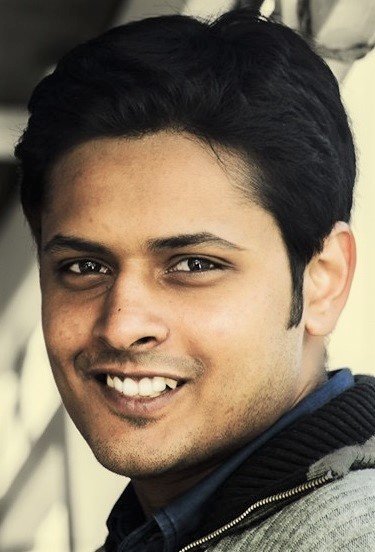 Rupantar Guha
Principal Analyst, Thematic Intelligence
GlobalData