CASE STUDY: HLB International
Fostering ESG practices to create an inclusive working environment
GHJ is an HLB International member firm based in LA, USA. They have been with our network since 1989.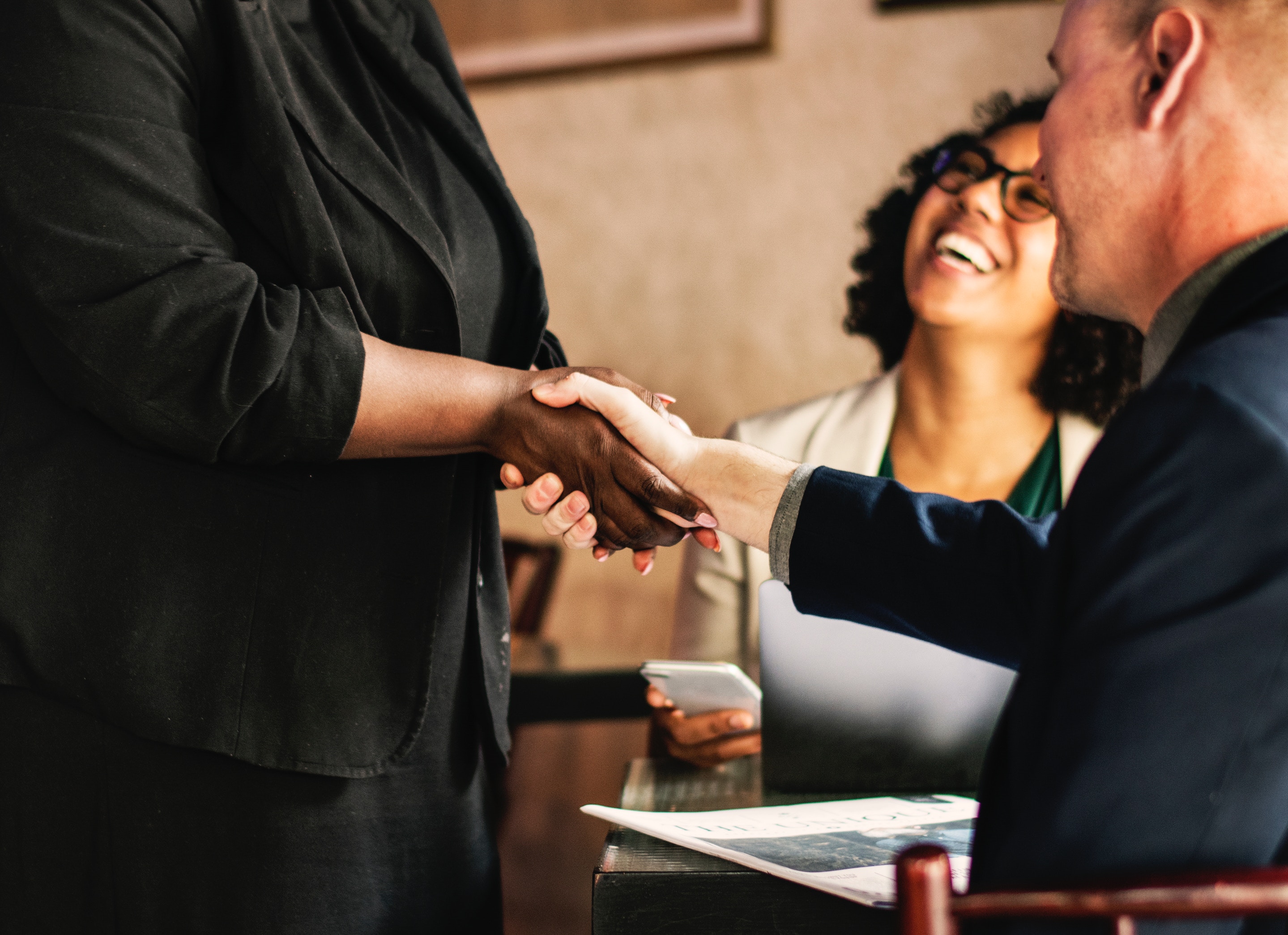 GHJ have reaped the rewards of a strategic drive to embed a more inclusive environment into their workplace and embrace the core essence and purpose of corporate social responsibility (CSR) and Environmental Social and Governance (ESG) initiatives. The benefits they have seen as part of their efforts include talent retention and highly skilled talent among the workforce, diversity of thought which has led to increased revenue, increased efficiencies and an expanded and more diverse client base. Let's take a look at how they orchestrated this auspicious plan…
Since GHJ's inception, the firm has made a conscious effort to embrace a diverse workforce. These types of stats are continually assessed, tracked and expanded to ensure we are aligned with our core values of Brave Hearts, Bright Minds and Bold Actions.
When compared to other accounting firms, especially those of the same size, GHJ's diversity scorecard is well above industry standard. More than half of its staff is comprised of females, along with a third of its partners. GHJ also has employees from around the world and a wide breadth of nationalities.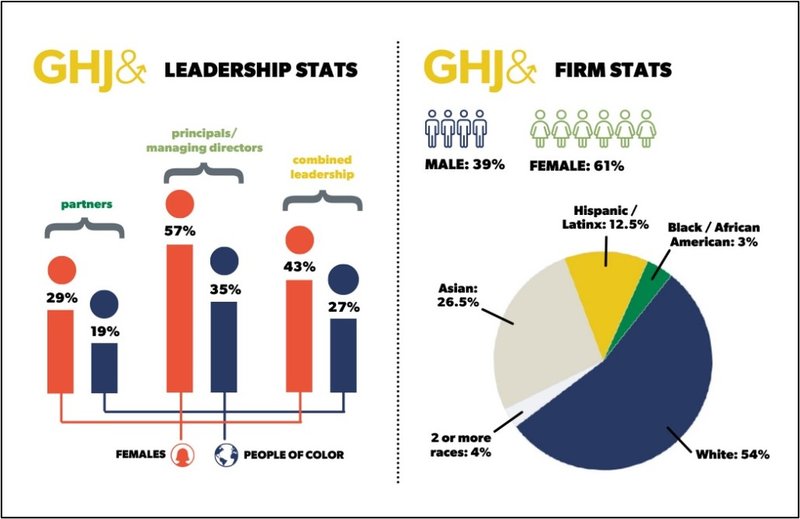 Our diversity statement which is written on the wall of our headquarters as a constant reminder of the values that we live every day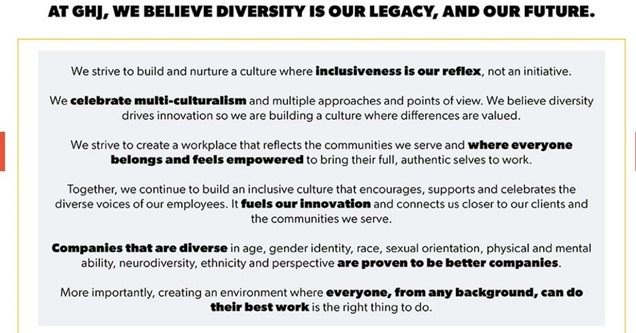 The focus of GHJ's diversity efforts:
To ensure that the workplace reflects the rich diversity of the people in the communities GHJ serves.
Enable groups of people underrepresented in the profession to thrive at GHJ as well as the accounting profession as a whole.
GHJ aims to create a welcoming and inclusive environment for all current and future members of the Firm.


DEIA Resources and Programs
Diversity Audit: ongoing diversity audits of our policies and procedures
Trainings: Annual, firmwide training in unconscious bias
DEI cohorts that include Women's Empowerment and BIPOC collaborators for equity
Investments in programs and initiatives that support DEI outcomes
Technology Investments: Recruiting software that reduces implicit bias in the recruitment process

Transparency and measurements across GHJ's talent pipeline

Ongoing, open and sometimes difficult conversations that push mutual understanding and support of one another
Leadership: Committed to improving diversity, equity, inclusion and accessibility efforts at GHJ and in the workplace, Mari-Anne became a Certified Diversity Professional (CDP) in 2020. She is a driving force and leader behind DEIA in and outside of GHJ.
DEIA Leaders have been on ABC News, LA Times and other national publications to speak about DEIA and how to successfully implement diverse hiring practices, cohorts, etc.
Training programs: Unconscious bias trainings, Women Empowerment Webinar Series, Allyship. The firm brings in industry leaders and experts to facilitate open discussions and trainings
Three Cohorts (ERGs):
Women's Empowerment Group: active for over 7 years
Parenting Cohort
BIPOC
Community philanthropy
GHJ FOUNDATION: A vehicle for purposeful and proactive giving to our extended "family" – our community. The GHJ Foundation was created over two years ago as a vehicle for giving back through serving nonprofit clients, community service days and donations.
Notable GHJ Foundation statistics:
Donate to about 35 nonprofits annually
5 grant cycles since inception
Over 2000 volunteer hours in over 2 years
Nearly 50 grant committee members which inspires our people to become philanthropists
Funds are raised by firm contributions, individual contributions of active and retired partners, individual staff members and alumni contributions.
So there you have it, a combination of awareness, collaboration and innovation will ensure your business not only cultivates an inclusive corporate culture where your people can thrive but also positively impact your societal ecosystem and help shape a better world.
With offices in 157 countries and a collective workforce of 38,732 people, HLB recognise the scale of its impact on social issues in and outside our profession, our responsibility to the environment and the communities we operate in across the globe. At HLB, we believe that creating a corporate culture that is diverse and inclusive boosts innovation and employee engagement. We aim to provide the best opportunities for our people and attract and retain top talent to ultimately offer a top-class service to our clients around the world.